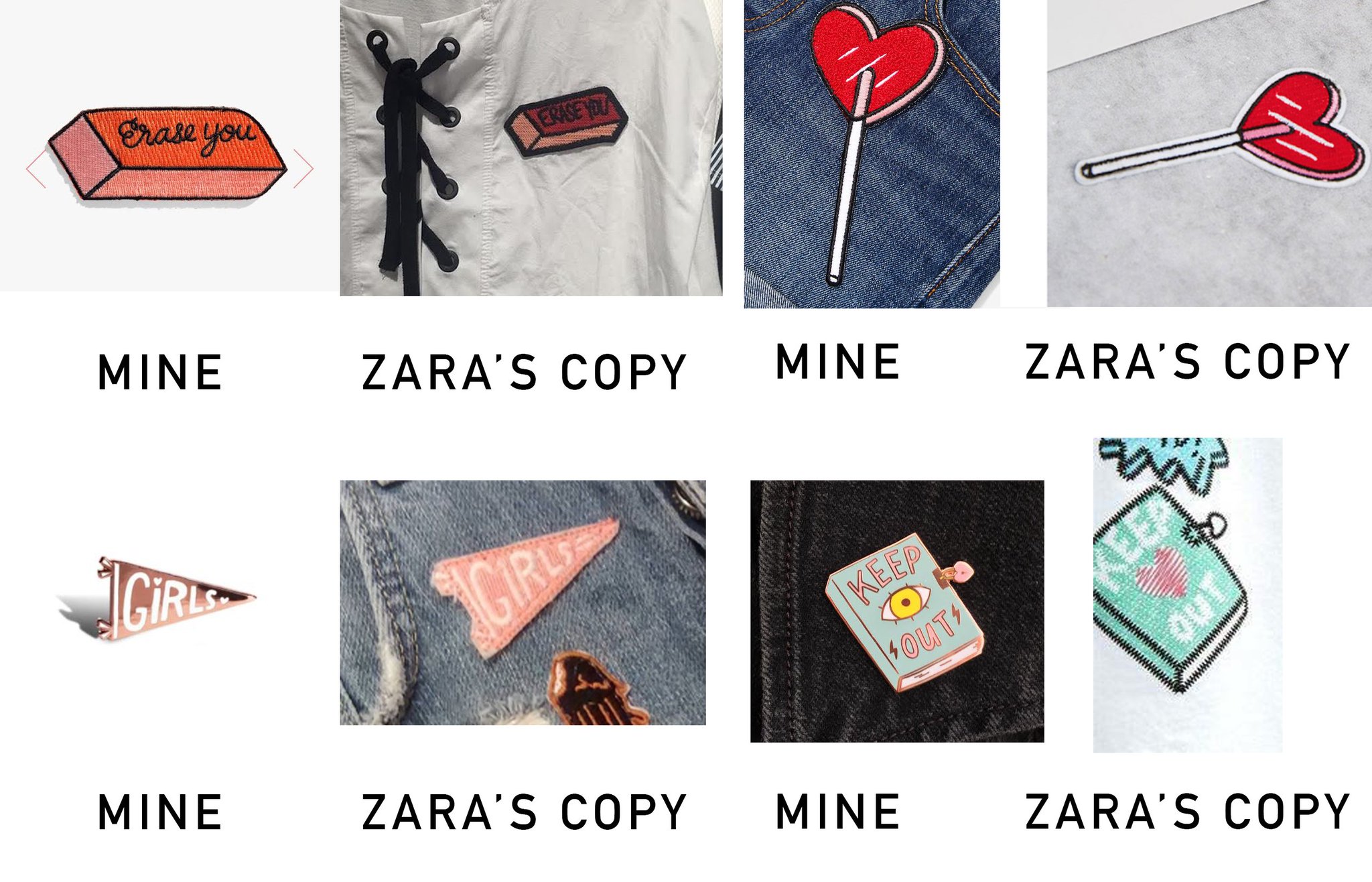 You've probably seen the above picture somewhere on social media already. I posted it on my Instagram as well. On the left you see pins designed by Tuesday Bassen – on the right Zara's stolen copy.
Tuesday Bassen
Before about two/three days ago, you've probably never even heard of Tuesday Bassen ever in your life. I hadn't either. I came across her profile on instagram, where she posted this picture. It caught my attention and I decided to look deeper into it.
Tuesday is an Indie artist
who designs small cute images and makes them into
pins and patches
. Find her shop
here
, and look for yourself. As a small entrepreneur, it must be a heck of a job to make some money out of it – and I have immense
respect
for her way of running her business. A small business which isn't that well-known to the big public yet, hence Zara's designers knew where to find her.
What Zara did was to basically take over her designs and use them for their own sales. They remade her pins and sold them as their own pins in Zara shops all over the world. They used her patch designs for their own clothes without giving Tuesday any credit for it nor pay her for using her designs.
Their statement simply is that they are bigger and have more followers than Tuesday, and nobody even knows who Tuesday Bassen is anyway so they have all the right to just steal her artwork fort heir own profit.
I tried to imagine what I would feel when something like this would happen to me. Think that you're an artist who only has a small audience, but who wants to grow bigger. Like every other artist, you want your work to be admired by the big public. You are honoured when people buy your products and give you credit. But then suddenly you see your design pop up in Zara's collection. And you can't remember them asking you for it. Or even give you any credit for using your artwork. And you feel absolutely powerless against such a big corporation as Zara.
Tuesday is not the only artist to whom this has happened. There are several other artists who add up to the list of Zara's plagiarism, for example
Adam Kurtz,
Crywolf
, and
Georgia Perry
.
On instagram, people are bashing Zara by using hashtags as #boycottzara and #supporttuesdaybassen – hoping this will create awareness of the situation. I also deeply hope this will work. I hope all the media attention will make the world aware of what companies like Zara are capable of doing at cost of small artists like Tuesday Bassen. Because I'm sure this is not the first time this happens, and I myself would be very pissed if some big company just used my designs without accrediting me.


design by Adam Kurtz
I don't want to discourage you to shop at Zara anymore at all now. But I would ask you to be aware of the products you buy at their stores, as well as their Bershka, Pull&Bear and Stradivarius stores. If you see any designs that look familiar tot he ones the above artists produce, I would rather not buy it at Zara's but at the original artist's instead. In that way we all contribute a little bit to authentic products and at the same time we disapprove Zara's plagiarism.
I am watching the updates about this situation closely, and I'm especially curious if Zara is gonna come with a proper response or even admit their guilt in the near future.
I am looking forward to hearing your opinion about this matter! Are you supporting Tuesday Bassen, or do you rather find the whole thing a bit over the top? Were you aware of this situation or is it new to you? How would you react if this happened to you? Let me know in a comment!
Follow me on social media:
Snapchat: @ilsepulse